Looking for your Dream Kitchen?
From inspiration to completed installation, we will design and manage your dream kitchen, by offering the following –


• FREE design, based around your ideas and needs,

• FREE advice, from our vast knowledge and expertise,

• FREE drawings, in colour, from any angle of the kitchen you choose,

• All inclusive price with no hidden extras - we only give quotes not estimates,

• A full comprehensive guarantee!

• See our price promise

Its now a recognised fact that having a fitted kitchen increases the value of your home.
The type of kitchen, its condition and its ease of use can be the overriding factor in the process of a house sale.
Most families now have busy lives with often several members of the same house at work. Family socialising is often based around the kitchen and breakfasts, lunches and evening meals are the most important way of getting together. A spectacular fitted kitchen cannot only vastly improve the quality of home life, but will make it more attractive to potential buyers, increasing the value of the house at the same time. Investing in a new quality fitted kitchen can be one of the best decisions you can make for both your home equity and family.
What type of kitchens are there?
We can supply and install classic, traditional and contemporary kitchen styles, in all the the formats of furniture design,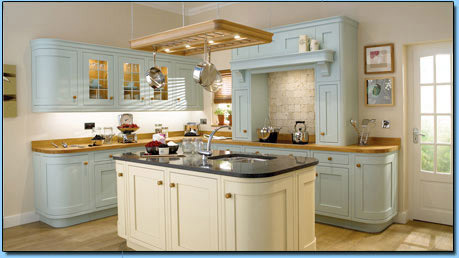 How we can help you?
Creating spaces that cater to all members of your family is an essential ingredient in designing a sociable kitchen.
Whether it is to satisfy your budget and/or design requirements we have a kitchen for you. Your kitchen can be complimented with many additional features such as turned posts, individually designed dressers, Islands, feature doors and other ′one off′ pieces of furniture designed to fit your kitchen design dreams.

With over forty years experience and ranges to suit every taste, from a budget kitchen, to a high quality top of the range installation.

Our furniture is designed to maximize all available space, enabling you to get the best use out of your budget without looking dull.

Dream Kitchens will help you to integrate all the appliances and accessories you need for a workable kitchen and advise you on the total design required, creating the desired colour effect with worktop colours through to floors and tiles. Our splendid kitchens on these pages is just a very small sample of how Dream Kitchens expertise can transform your home. We pride ourselves on the quality and depth of our design service.
At the initial enquiry, we will make an appointment to visit you in your home to discuss your personal requirements,
going forward to designing your ideal dream kitchen layout.

Contact us for more details and a free no obligation quotation.
Alternatively we are able to provide estimates from Architects or Clients plans, but these will remain provisional until a home or site visit is made to verify all measurements, levels of floors and walls etc. We can prepare scale drawings and perspectives to show the initial scheme and will advise on the costing of the installation.
Why you should choose us?
When you choose a kitchen from Dream Kitchens, although we offer you the keenest prices, you′re not getting a ′cheap′ kitchen, or ′cheap′ quality units, you′re getting the very best prices for a high quality dream kitchen, a design that will fit your daily demands can be delivered as supply only, or completed with a full installation. We can offer you -

• Rigid construction cabinets that are glued and dowelled not screwed and dowelled (which is flat pack converted to rigid),

• Top quality furniture with 19mm solid backs, Blum soft-close doors & drawers, front edges 0.4 or 2mm PVC,

• High quality doors in all shapes, sizes, colours and finishes at competitive prices,

• Worktops in Laminate, timber, granite, Corian, quartz or glass,

• A choice of appliances from numerous manufacturers to suit your budget,

• Sinks and taps from Franke or Blanco, coloured or stainless steel,

• An extensive selection of accessories to suit your storage needs,

• Full installation including plumbing, electrical & gas,

• Can include all required building works, tiling & flooring if required,

It can be difficult to know where to start with your kitchen and you may not have a clear idea about how you want your finished kitchen to look. That′s why it′s worth taking the time to look at all the choices on offer to see for yourself the different options available. If you find this a minefield of information, remember we are the experts and are here to help and guide you through, enabling you to making a stress free decision.

Here at Dream Kitchens we can give you all the support you need, when choosing and buying your dream kitchen.


---
*LOOKING FOR A FREE QUOTE?
If we haven′t quoted for your kitchen, or bedroom but you have been given a quote elsewhere,
simply post, e-mail or bring that quote and drawings to us and we will try and beat that price.
This offer is only for full kitchens and bedrooms - NOT Refurbs.

It is valid for all of the UK - with supply only (No Installation) quotes,

With installation included, it is available for most of Kent and parts of Surrey, Essex and some London areas only.

Please e-mail us first with your postcode to see if you qualify.
---