Kitchens for People with Disabilities
Introduction:
One of the greatest obstacles to designing a kitchen for people who are seated, sitting or in a wheelchair is access to sinks, cupboards, appliances and usable worktop workspace. Taking into account different disabilities require there own special unique designs suitable for that individual only, this can often be a kitchen design challenge.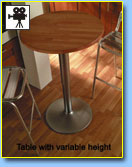 It′s important to design a kitchen that includes all of your disabilities needs. We at Dream Kitchens are happy to talk to you and find the best method, to maximise your proposed kitchen and obtain the best design to suit your requirements.

When faced with a disablility, people have great difficulty when trying to use a standard designed kitchen. A wheelchair user being confined to limited movement has tremendous problems even getting close to the units let alone being able to reach deep inside them, and it maybe almost impossible to operate the hob, or view inside a sink bowl. Being able to cook as well can be even more difficult.

Using a working surface set at the standard height can be very difficult to reach. Only the first 400mm of a 600mm deep worksurface is considered to be easy access for the user, the remainder is only useful for storage. Dangerous appliances such as kettles and boiling saucepans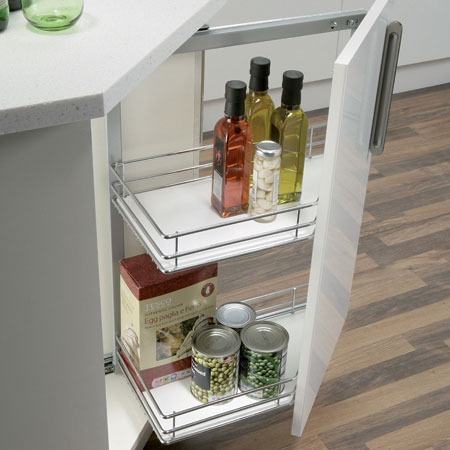 are often situated higher than the user. Remember heights can be altered.

We can offer height adjustable worktops, sinks and hobs, with many other additional features added too. Height adjustable tables which are fully suitable for any disability requirements can be constructed to your own specification. We can offer a variety of mechanisms from full electrically powered height adjustable with memory control, to a crank handle which manually adjusts with variable heights. This furniture is available in many innovative and elegant designs, with complimentary worktop sizes and styles in an unequalled range of finishes. Even your kitchen preparation table can be adjustable.

Most built in appliances are manufactured with only able-bodied people in mind and seem to be designed to be accessible only to the most agile, either the oven is too high, or the refrigerator or dishwasher is too low, but all appliances can be fixed to a more workable height for wheelchairs.

In a standard kitchen, wall units are always installed out of reach and become out of bounds to all but the most agile, but don't forget, these can be installed either manually to different known and preferred set heights, or for slightly more flexibility adjustable too, or electric powered and even a version moving forward as well as height adjustable.
Finding the best design - to suit you:
The final kitchen design needs your input, it will be your kitchen, and with past experience only you will know the most essential needs required to make it work.

The first task is to provide us with a list of specific requirements and other required values you feel important for us to bring into the design, remembering that every slightest detail given to us could be possibly crafted into the kitchen and ultimately make life easier and enhance your quality of life.

It is obviously extremely important that units and appliances are positioned where safely accessible. It would be foolish, for instance, to place an appliance in the far right hand corner of a kitchen when the person using it cannot use their right side. If you can′t bend or lean forward, consider how much easier it would be to get the stored items to come to you, there are numerous pull-out accessories (above right) where you just reach down rather than reach in, so gain easy accessibility with the minimum of movement.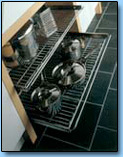 Wall units can be made to lower their contents without reaching up. Cutting boards, slide-out or roll-out shelves and baskets, tables, worktops, waste bins and ironing boards can pull-out at the correct height. Drawers can pull-out with full extension rails to give 100% accessibility. Work surfaces can be raised and lowered to different heights, on different occasions, for different needs, as shown in the picture video (above left).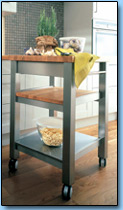 Mobile units (on the right), can be included into the plan to move items easily from one side of the room to the other.

It is also critical to build in the appliances at the most advantageous height for different individual needs. The oven and hob, sink, dishwasher, washing machine and basically all other appliances can be incorporated at non-standard heights.

An appliance lift within a base unit, is a simple way to make mobile appliances including the microwave more accessible, without ever having to lift them from a storage area again.

The sink and hob can have knee-space underneath to allow a good view of the sink contents or watch food being cooked, and so to prevent the need for you to stretch forward. It is possible to supply and fit rise and fall sinks, which can be set to the height most suitable for you.

Base unit heights can be made to your requirements and plinths heights raised to accommodate extra toe space. Cabinet doors can be hinged to hang out of the way of wheelchairs when open, wall unit doors can even rise vertically on easy lift gas hinges, rather than hang to the side.

Wheelchair foot-rest space can be left under the base units to allow a person to move closer to the working surfaces, and thus also closer to the wall units. For those in a wheelchair the ability to get your knees under the sink and hob, makes all the difference between being independent or frustratingly restricted in your own kitchen.

Worktops and plinths can have contrasting edges, even doors to specific cupboards can have different colours, this can aid the visually impaired to establish when one section starts and the other finishes or identify an important area.

Taps and extractor hoods can have automatic sensors to turn on and off. Electrical switches positioned for ease of use. Sockets can all be in one place with vertical pop up power docks, which can close down flush with the worktop surface.
Kitchen Appliances:
An extremely important consideration must be the specification of appliances. There are ovens such as Siemens with side-opening doors and the new "Liftmatic" (below left), which has a button controlled lift up door with access on three sides, allowing much easier manoeuvrability and allowing closer access.




Neff too, have an oven that when you open the door fully, it slides neatly under the oven cavity. This is easy access and perfect for the wheelchair user or elderly. The standard oven with a drop-down door can be dangerous, in the way, and often impossible to get near. Again as with the base units, the internal wire oven shelves can be attached to special drawer runners, which enables them to safely pullout towards you without tipping, so eliminating the need to reach into the oven and be burnt by that dish of boiling oil.

Hobs can be obtained with front controls so they are easier to use, ceramic hobs can have touch controls eliminating any knobs to turn, other forms of cooking such as the induction system should be considered to enable safer cooking.

The induction hob (above right) is a further way to cut down the risk of being burnt, if you have a disability where you are unable to sense any heat, this is a much safer method to work, this system operates by generating an electro-magnetic field which penetrates the glass-ceramic panel of the hob and induces a heat generating eddy current in the base of the cooking pan.

Induction hobs require ferro-magnetic cookware, (cast iron or ferrous base pans) as stainless steel pans will not work. As the heat is generated inside the pan and not directly on the hob, induction hobs cool down very quickly, with the glass-ceramic hob top cooling instantly. Because the hob is only heated indirectly by heat reflected from the base of the pan, you can actually cook on top of paper it may get warm, but not catch fire.



Placing a saucepan on the induction cooker makes the hob heat up instantly. Heat can be turned on and off in a second unlike traditional ′electric′ hobs where the element needs to cool down. Removing it makes it cool down immediately, thus saving energy and making it almost impossible to burn oneself. This makes them very safe to use, especially with young children or anyone with a disability.

As induction hob cooking is so much quicker they are extremely economical and efficient to use. You can boil a pan of water in under a minute from cold. Since the cooker itself does not heat up, but is only heated up by the hot saucepan, food that is no longer covered by water or that has run out of water while cooking will not burn. And of course, that means that no food will have to be painstakingly scraped off the saucepans afterwards.



The type of tap will also need to be chosen carefully, there are a large variety of lever operated taps (shown left) available, all "quarter turn" in operation, there is also a selection of thermostatically controlled taps to protect you from getting burnt.

Remember the maximum safe water temperature from the tap, without being scolded, should be between - 35C to 41C. If that can be supplied automatically on a thermostatically controlled tap rather than on a "hit & miss" manual tap, the extra cost must be worth it.
Refrigerators and freezers can be integrated at eye-level, or built under the working surface and contain an easy accessible pullout drawer, to gain access to the interior. As you can see in the adjacent picture (on the right), there are even dishwashers with pullout drawers, rather than the awkward drop down door which gets in the way of the wheelchair.

We at Dream Kitchens are waiting to help you achieve your "dream kitchen". For many years people with a disability could only dream of having a fully functional kitchen designed specifically for themselves. It is now possible to produce stunning fitted kitchens that truly cater for all the needs of your disability, and create a cooking area that is fun to work in.

*Please contact us to discuss your requirements.*


HM Customs & Excise have stated that VAT is excempt for kitchen units manufactured specially to suit a person with a disability; subject to the appropriate declaration form signed, the units must be purchased by a person for his or her own personal use.
The same exemption is extended to Charities who purchase units to be made available to handicapped people.
---
Share this page: