Kitchen Sinks & Taps.
These are just a few of the sinks etc, that Dream Kitchens can offer...
To view the manufacturers web site - go to "Sinks" on the links page...
Blanco have a large collection available. The following sink brochure is just some of the
Blanco Inset & Undermount Studio Collection.
VIRTUAL TOUR - HIT THE FOLLOWING LINK,
to visit an onsite showroom with over 300 products on show including sinks, taps, hobs, extractor hoods and lighting:
>>>>>> TAKE A VIRTUAL TOUR WITH BLANCO UK <<<<<
Classically Timeless – Stainless Steel Sinks:
Stainless steel differs from most materials in that it can be integrated into almost any kitchen environment, here are its most important properties:


• Timeless aesthetics
• Does not rust
• Completely heat-resistant
• Suitable for food use and hygienic
• Stainless and acid resistant
• Non-fading
• Easy to care for, only the highest quality stainless steel to satisfy the highest possible standards.

Silgranit™ Puradur™ II – Coloured Sinks:
Learn about the sinks durability, texture and colours.
The material comprises up to 80% of the hardest elements found in natural granite, giving the sink an unsurpassed hardness and scratch resistance. High quality acrylic bonds the material for the whole life of the kitchen, giving the sink a non-porous, sealed surface and making it particularly easy to care for. Thanks to Blanco's 20 years of experience with composites you can not only depend on SILGRANIT™, you can also enjoy its many advantages which make your daily kitchen chores considerably more pleasant:

• Wide range of pearl and uni colours, from brilliant white to the exclusive alu metallic finish,
• Pleasantly warm, natural appearance,
• Unsurpassed scratch resistance, as hard as stone,
• Heat resistant up to 280°C,
• Suitable for food use and hygienic,
• Stain resistant,
• Non-fading – even in direct sunlight,
• Easy to care for thanks to its sealed surface,

Silgranit™ Puradur™ II – Sink Colours:
Enjoy the beauty and elegance of exquisite colours. Uniquely true to colour, Silgranite is available in ten attractive colours with a more even surface finish for all colours to coordinate perfectly with the BLANCO taps.
Sinks are now designed to be good looking, even fashionable, as well as functional, you will be amazed at the choice we have on offer. Options now available are much wider in terms of materials, colours, styles and formats.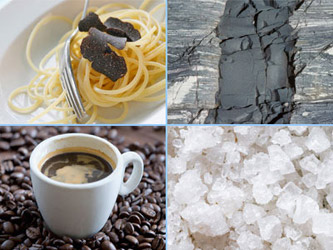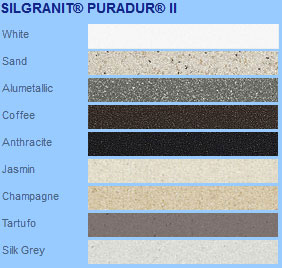 Kitchen Sink – Mixer Taps:
Equip your sink centre with a mixer tap which matches the design of your kitchen. The perfect interplay of tap and sink provide you with maximum aesthetics and functionality in the kitchen. Taps with great design appeal and impressive technology. Are you looking for fresh tap water, filtered drinking water, pull-out sprays, colour coordinated, chrome, brushed steel, or telescopic - we have them all.
Instant, boiling hot water tap - InSinkErator® Filtered hot and cold water tap.
Please contact us now for a FREE NO OBLIGATION design and quotation.