Independent Contributions from other Professional Companies
Contributor – caffesociety.co.uk:
Guide to making the most of your Kitchen:

The kitchen has increasingly become the most important room in any house. More and more of us are looking for homes with big kitchens that include plenty of space for family meals together, entertaining and for the children to play, or at ways of adapting our existing home to maximise the kitchen`s potential.

Kitchens are no longer somewhere to simply cook and eat, but have developed into the social and family hub of the home. If you`re planning a new kitchen it`s important to factor in a lot more than simply the design, material and colour of the units and work surfaces.

Depending on your circumstances you could be asking for a lot from you kitchen - a play area for children so you can keep an eye on them when you`re cooking, space for up to six, eight or even more to eat, plenty of food preparation areas, room for a large fridge/freezer and cooker and plenty of storage space.

A priority for most people today is to make their kitchen a warm and inviting place for family and guests to socialise. Planning and designing a new dream kitchen is a fantastic opportunity to make it the true heart of the home.

The key to ensuring your kitchen works as a social area is to ensure you have the ability to accommodate family and guests at the table. If you only create enough space for a table and four chairs, then that immediately makes it difficult to have more than four people sitting round that table for a meal. Planning a large family get-together, children`s birthday, or dinner party simply becomes impossible if there isn`t room for everyone to sit down and eat.

Think about having seating for as many people as your kitchen can comfortably take and make sure you measure accurately to allow plenty of space round the table for people to get in and out of their chairs easily.

People will gravitate to the kitchen if it has an inviting atmosphere. Make sure the lighting is right and maximise the storage to keep worktops as clutter-free as possible. You might want to have a kitchen island with bar stools, which gives more informal seating options and can also allow the cook to chop and prepare food without having his or her back to people in the room.

Some people will want to make the kitchen a very specific family area, perhaps even with a sofa and TV, toy storage and space for a computer to be used under the watchful eye of mum and dad. Again, measure carefully as you don`t want to cram the kitchen with too much furniture for its size.

If you do envisage young children and their friends using the kitchen a lot think about kitchen designs with smooth curves rather than pointy corners and consider installing flooring that isn`t too hard - wood is often a good choice.

The better planned and designed your kitchen is the more likely it will be successful as the family and social focal point of your home. Remember also to factor in useful products and gadgets to ensure your dream kitchen has something for everyone in the family.


---
Contributor – MoneySupermarket.com:
Don't let your new Kitchen become a recipe for disaster ....
Home improvements are a great way to add value to your home and a brand new kitchen is a great place to start. It is often said that the key to successful cooking is a well-kept kitchen.

Fitting a new kitchen will require a great deal of planning and knowledge in the areas of carpentry, plumbing, electrics and tiling. It can be tempting to try to do this yourself to cut costs, but if you lack the skill in any one of these areas you could end up paying for it in the long run.

The trick to a successful new kitchen is to plan exactly what you want and how much you can afford. Another precautionary measure to take before any work is started is to contact your home insurance company to see if you are covered against accidental damage during the building process. Keep in mind that after your kitchen is finished this may impact on your annual premium and could push the cost up. Shop around for the cheapest supplier.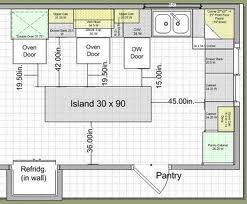 Measure Up ....
It is important to have a mental picture of exactly how you want your completed kitchen to look like. Next it is time to take measurements. Starting from the entrance to the kitchen, measure in a clockwise direction. Take the ceiling height at several points and construct a scaled drawing marking all existing power points, plumbing, gas supply, air vents, window sills, radiators and if applicable, the space for your boiler. Also show which way the doors in the kitchen open and note the spaces where your kitchen appliances will be placed. Here (to the right) is how a basic diagram should look.
Do's and Don'ts ....
Do:

• Position dishwashers and washing machines close to the sink so that water pipes and waste flow can be connected with minimum hassle.

• Position your cooker close to worktops and the sink so that there is less distance to travel when carrying hot pans.

• Allow a small space at each side of your cooker for protruding pan-handles.

Don't:

• Position your cooker near any electrical sockets or underneath a window. The last thing you want is the curtains catching fire and your dream kitchen catching fire.

• Position your cooker near a fridge or freezer. But then you know that anyway.

• Position an inset sink next to any opening doors. The last thing you want when washing the dishes is the door slamming into your back.

Finishing Touches ....
Finally when your kitchen is complete, it is time to add those finishing touches. Think about the lighting in the kitchen. The lighting will have a considerable impact on the mood and look of the kitchen. A spotlight above the cooker will help you create dishes that Delia Smith would be proud of. Have a look round some show rooms for inspiration and speak with shop assistants for advice on colours.

Allow room in your budget for wallpaper, paint, handles, flooring and other items that will allow you to finish off your kitchen in style. Before you invite your friends and family over to admire your dream kitchen, you may want to add any new kitchen appliances or items to your contents insurance policy, just in case.


---
Contributor – Toolsandpartsdirect.co.uk:
Installing a new kitchen can really make the most of your current house. In tough times such as these when moving can be expensive hard and risky, improving what you have got is the next best thing. In fact by doing this, not only are you making your life better but probably improving the value of your home for the future as well. Of course one of the most important things to get right if you are doing the installation right is having the right tools at your disposal. So let`s have a look at some of the essential elements of a kitchen installation tool kit.

First of all put those power tools to one side, we will come back to them later. Let`s talk about safety and accuracy. If you are drilling into walls there is always a chance you will hit something you can`t see. This could be a water pipe, which could be expensive and messy. More seriously it could be a gas pipe or electricity cable. This is a dangerous situation. So get yourself a stud/cable/metal detector. This all in one device can be used to survey all of your walls and mark out what you find to avoid it.

Next you need to equip yourself with a decent level, tape and engineer`s square. This trio is the essential kit to ensure accuracy when laying out, planning and fixing. A 4 foot level is probably the best and this length is an ideal compromise. The tape should be a retractable steel tape with a locking feature. If you don`t get that then be prepared to have your fingers nipped time and again as it shoots back. Along with the engineering square to check your corners if building, you should buy the best. They will be more robust, last longer and be more accurate.

Perhaps one of the most important tools now is a power drill or driver or one that does both. A cordless drill will give you the best flexibility of all, but make sure you buy a second power pack to keep on charge when the first one runs out. Believe you me it will run out at a crucial point! So with this tool you have everything you need to put your cupboards and cabinets together as well as fix them to the wall. Marry that up with a set of quality drill bits and drivers. Don`t buy cheap it is a complete false economy. Cheap ones will break, which is dangerous or will wreck the head on your screws.

This really is the basic essentials you need to install a kitchen. There will be some assorted others which you may want to quickly check, but with how easy kitchen units are to install these days, these should cover you well. Obviously buy well and choose wisely. Going for a reputable brand such as Elu Power Tools will ensure you get value for money and that they don`t break after 10 minutes hard work.


FORWARD TO 2nd PART