Kitchen design is not only about looks,
it is what's on the inside that counts too.
How to Manage your Kitchen Storage area.
Kitchen Storage solutions:
The kitchen is one of the most important rooms in the home. No matter how big or small it may be, it makes good sense to spend time organising the available space as efficiently as possible. After all, a well planned and organised kitchen can save a lot of time, and make your life simpler and less stressful whilst cooking.

The next step in planning your new kitchen is to plan enough storage to suit your needs, remembering that different shapes of kitchens automatically reveal different amounts of storage space.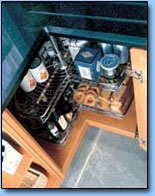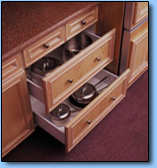 A well-designed kitchen does not need to be stuffed full of identical cupboards. With creative designing colour and style we can make you a kitchen that is both interesting and a delight to work in with a storage function at every move. However, there are a lot more possibilities and styles than you might think, and to get the best from your kitchen you need to think about even the smallest of spaces.

Storage below the worktop is especially handy for heavy items such as portable electrical gadgets and pan drawers are a far more efficient way of storing heavy items as pots, pans and oven dishes than a regular base unit with shelves.

The crucial knack to cabinet storage is to avoid stacking items and make everything accessible. Pots and saucepans can take up a large amount of your storage area, but they can be stored, so they are both organised and conveniently at hand without taking up a vast amount of space.

Before listing the items you "think" you want to store remember; If you haven′t used it in the past year, the chances are you won′t need it in the future. Improve your space and efficiency by removing all the unecessary items not required. It is also a good idea to label containers, boxes, and even shelves/drawers so that everything returns to it′s specific space and is easy to locate when you are under pressure.

All our drawer boxes and hinges are supplied by

BLUM, which is the recognised industry leader. Quality is the number one priority at Blum. If you expect the most important working parts such as hinges and drawers to function correctly, move fluidly and never stick or jam, then make sure that they are the best you can get. On the overall cost of the kitchen, the difference is so small it is almost unnoticeable.

Click the video image (left) to see the different storage options. Learn about the five working kitchen zones, and how your kitchen design can make the best use of these. Drawers have many more functions than just holding cutlery and pans. Look to see how you can use drawer management systems and hands free options to ensure the easiest use of your kitchen, with the maximum advantage in storage space.

Think about how many of those items you have and how much storage space you have to give to those items, remembering to leave enough room for expansion as in the future you will buy more and the items you already have will take up more space than you think!

Products like bottles of wine that don′t need to go in the fridge can go below the worktop, there are many types of wine racks for red wine, many showing off the bottles as a focal display. If your budget is bigger, even chilled wine coolers can be used to free up refrigerator space. Beer can versions are also available.




General packaged food items and tins are easier to store in pull-out wire-racks and they are available to fit various size units, Click the video image (left) to see the chef′s pantry. Think of a another use for pull-out wirework trays, such as vegetables too.

Vegetables must be kept in a dry place to prevent them from early decay so they mustn′t be stored too close to an oven or a hob, in a country-style room, wicker vegetable drawers offer a rustic alternative for dry dark storage. Click the video (right) for one of the styles. There is even a modern version of basket with steel for contempory kitchens.

Think about where you want your main bin to be situated, it needs to be integrated into a base unit near the sink to keep the kitchen clean and clutter-free whilst in use. Eco bins that hold different types of recycling items are now the in the most poular sales.

In a "U" or "L" shaped kitchens there are "dead" corners inside your cupboards, to make maximum use of these there are various corner arrangements, from the standard carousel, to the new "Le Mans" and "Magic corner" pull outs, to a "turn motion"





Click on these two videos (to the left and right) to find just two ideas for a useful corner solution.
For more ideas see the pictures on the kitchens accessories page. To view more videos go to the kitchens accessories video page.

Utensils should be kept near to where you will most likely need them. Try to store your cutlery in a tray, close to the dishwasher or sink for quick storage after cleaning. Drawers are still the best place for cutlery and have the most options when it comes to different types of tray storage. This will make your kitchen more efficient when cooking utensils and dinner cutlery is stored in the same area.

The list is endless, wide 800, 900, 1000, 1200mm wide pan drawers can hold the largest of pans and pots. Stainless steel panels, plinths and backsplashes all help towards a clean clutter free, easy clean kitchen. Ask us at Dream Kitchens and we will guide you through to better storage management. Worktops should be kept free from too much disorder as this will give your kitchen a cluttered messy look.



As the space below the worktops will mostly be used for heavy storage, above the worktop storage can be more creative.

Glass fronts, open shelves and grid hanging systems are all popular alternatives for wall cupboards.
Remember that items on open display are susceptible to steam, grease and dust, so this type of storage will only be usable for goods that are needed on a daily basis. A solution to this can be storage behind glass cupboard doors.

There are many pull-outs, both straight pull and side swinging (image right), wirework larder units. As well as the chef′s pantry (2nd video from the top above), there are cheaper versions in various heights found by Clicking the video (right).

Top-hinged wall cupboards as well as high level storage cupboards can all help towards the ultimate storage space. Solid or glass lift up doors with gas hinges can add ease of opening, as well as giving you a highly stylish kitchen design.

Mid-way units make use of the space between the worktop and underside of wall units, or a hanging rail able to take numerous functional add-ons, is an excellent practical use of this "dead" space.

If you have a farmhouse or classic kitchen, for easy storage and display of your plates you can use a plate rack. It might not have the function of draining over the sink as in Victorian times, but it does look good, and can save old valuable collectors items from getting chipped in storage.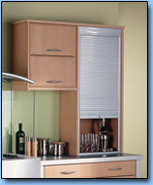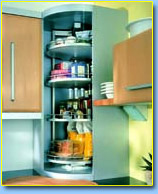 If you′ve got a large kitchen with a high ceiling, you might want to consider using the extra space by hanging a rack from it to store pans and other items. It is essential to make sure that rack and ceiling are strong enough to hold the pans. For the modern kitchen, this can be a ceiling mounted, centre "shaped" box unit with a cornice surround, enclosing centre downlighters, illuminating the island unit below.

The storage of cookery books is more likely in an old style kitchen, but this can also be used successfully in a modern contempory kitchen too. Just cover the books in glass or decorative frontals, rather than leaving them open to dust and food.

Another acceptable use of design in the farmhouse and classic kitchens is being able to hang mugs, jugs and decorative cups they can hang from pegs or hooks on open shelves for a country style effect.They can be terrible dust traps, but if maintained properly, give an acceptable homely effect to an old style kitchen.

In larger kitchens, cupboards of varying heights are another clever way to introduce variety into a plan and to separate the room into distinct areas for washing up, food storage and cooking.

To disguise a boiler you can cover over the front with a housing wall unit, we remove the top and bottom for ventilation, and install it ready for easy removal, when the boiler service engineer requires it.

To cover eyesore vertical pipework, consider a wall dresser as this one above (left), this will not only hide the pipes, but create a large decorative storage area with feature glazed doors, or maybe use a dresser with rolling tambour shutters (as shown), to create a functional storage space with an interesting focal point.

Maximise the efficiency of your kitchen with our large selection of products designed to increase storage capability and keep everything organized. Choose from base cabinet pull-outs and corner systems, drawer management, spice racks and cabinet door systems, larder fittings, under cabinet pull downs, cabinet wine racks, built-in towel, tray and bottle storage, appliance lifts and appliance storage.




We at Dream Kitchens are happy to provide you with - the kitchen of your dreams.


Please contact us to discuss your requirements.