Think about your Ergonomic Kitchen Design - 1
Kitchen Ergonomics:
Ergonomics, is the engineering science concerned with the physical and psychological relationship between machines and the people who use them. An ergonomic designed kitchen is based around your actual needs and the way you intend to use your kitchen and all its equipment. A good ergonomic design will make your kitchen more comfortable to work in and more convenient to use, as well as using all the available space to it′s maximum advantage. As well as lateral movements, heights should also be considered.

Whether you can stand erect, stoop, are tall or short, sit in a wheelchair, or are aided by a walking frame or stick, basic ergonomic requirements remain, they are the ability to reach, see what you are doing and move safely about the available space.

Your height is very important, remember you require diferent heights to carry out different actions. Rolling out pastry requires some pushing down movement so requires a lower surface on which to work. General presentation requires a higher worktop so as to be able to see what you are doing.

Maybe you require a disabled kitchen, as you are finding the sink is too high, it can be difficult to raise your arms high to clear the sink edge, then drop lower inside to reach the contents. Storage heights are important, heavy items should be stored low, light items used every day stored higher, to save constant stooping. Whatever your size and stature, this should be taken into consideration at the design stage.

The hob should be at a height where you can comfortably see the contents. Looking into pots and pans as food cooks is safer and more accessible when you are able to look down into the saucepans rather than peering over them. Ovens should be set at your height, not as dictated by some furniture manufacturers. If you can′t see the contents of a tray, or remove trays from an oven or microwave comfortably then it must be too high, this can make hot trays and boiling oil extremely dangerous to work with.

The correct height of appliance appertures in tall units can be specified on order - at no extra cost. If the worktop is too high or low, subject to the height of floor standing appliances (washing machines etc) these heights can also be altered when fitted - at no extra cost.

Within reason and subject to the type of appliance, worktop heights and appliances can be raised or lowered depending on your height and circumstances.

Most families now have busy lives with often several members of the same house at work. Family socialising is often based around the kitchen and breakfasts, lunches and evening meals are the most important way of getting together. If you have the space, an ergonomic designed kitchen from the view point of cooking and family socialising can vastly improve the quality of home life. Investing in a new professionally designed kitchen can be one of the best decisions you can make for both you and your family.


A well thought out ergonomic kitchen is designed around both the homes occupants and the way they use the kitchen. A design that fits around their exact movements and needs is essential.

The kitchen is not only used for cooking and eating; it can also used for social gatherings. Creating spaces that cater to all members of your family is an essential ingredient in designing a sociable kitchen.
Kitchen Layout:
It′s important to design a kitchen that includes all of your needs. To make a better working environment there must be a triangle between your cooker, sink and fridge, this will ensure that your workspace allows you to move freely between appliances and you are not confined to only using a small cramped section restricting the full use of the area. The layout you choose will depend on the shape and size of your room particularly where there are permanent details such as a chimney breast, windows and doors.

Plumbing and electrical points can often be moved, so do not let these restrict your ideas. The sink should be positioned in front of a window, so you have a view if it is a available and washing machines and possibly dishwashers are close to the sink, to ensure the waste can be easily installed.

Tall units should always be at the end of the worktop runs, to maximize the working area and keep the useable worksurface flowing.

Whether you have a large or a small kitchen, our designers will help you plan it so that you maximise all your kitchen storage space. Our free kitchen design service will enable you to ensure that your kitchen design is as efficient as possible and contains all your needs available within your budget.

We at Dream Kitchens are happy to talk to you and find the best method to maximise your kitchen to its best working potential.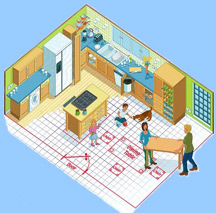 Kitchen Shape:
Kitchens mainly fall into five basic designs -
• Single straight row of units, creating one long work area. This can offer extra floor space and is best for small areas. For serious cooks, this type of layout can be very inefficient.

• Double line of units - often known as a Galley kitchen, this allows easy access to everything around two long parallel worktops.

• U-shape has an efficient working triangle. It can provide the ideal layout to your kitchen. The spaces between the three surfaces are properly divided to increase the use of space for preparation, cooking and storage. Two people can work together without interfering with each other as plenty of space is available. With the U-shaped kitchen a continual worksurface is used to its full advantage.

• L-shape with two worktops at right angles creating a corner. A large L-shaped kitchen can also be combined with an island or a dining table making good use of a large open area. A good shape to make the ′working triangle′ function well, but movement can be hindered by a dining table in small spaces.

• Peninsula kitchen design, this has one exposed end and the kitchen cabinets extend outwards at right angles from a row of cabinets, often acting as a room divider with seating to divert traffic away from the work triangle. The shape of the peninsula kitchen really gives itself to open plan kitchens. This best fits in the kitchen where there is a plenty of floor space but a shortage of walls to create an extra working surface. It can also be used where there is a limited space for a dining table.


Cabinets can be designed imaginatively to get the best use of these shapes and give you the maximum worksurface and storage area, totally changing your kitchen to suit your lifestyle.
Kitchen Cabinets: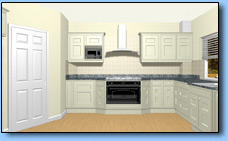 Every kitchen built for Dream Kitchens is built under the same strict quality control procedure.

As this topic is probably one of your more important decisions in a long lasting kitchen, we have decided to dedicate an entire page to the subject. We have listed the following information, to show you our high standards of kitchen quality, compared to some of the other kitchen companies.

All the units are manufactured to the sizes we require, e.g a 350mm wide unit is exactly that, not a 500 or 400mm cut down. We can make your kitchen to the exact size you require, whether a height, width, or depth change - so unusual sizes aren′t a problem.



FORWARD TO 2nd PART

Please contact us to discuss your requirements.