Kitchen Ideas.
Looking for a kitchen colour? Try mixing colours, eg. dark Walnut and stainless steel...
...or light wood and a colour...
...or high tech, high gloss and glass, or even gloss two colour mixes...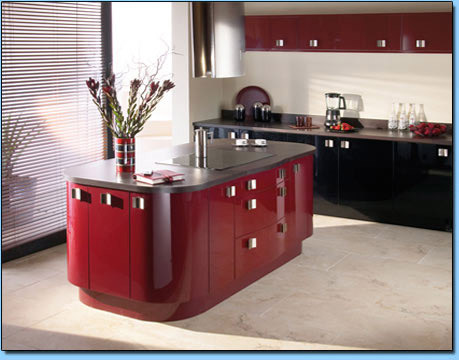 ...light, dark, glossy, we have them all, sit down with us and discuss how we can find you the kitchen of your dreams.


OUR PRICE PROMISE -
We are confident that our prices in our quotations are the lowest for identical products in an identically designed kitchen,
bedroom or bathroom.

If you should find the same items elsewhere, for a lower price than we have quoted, simply produce the written quotation and design
and we will beat that price.

This pledge is valid up to the date of order with any of our full kitchen, bedroom or bathroom quotes.


---
LOOKING FOR A QUOTE?
If we haven't quoted for your kitchen, bedroom or bathroom but you have been given a quote elsewhere, simply post, e-mail or bring that quote and drawings to us and we will try and beat that price.

For supply only, this offer is valid for all of the UK, but if installation is included for -
Kent, Surrey, Essex and London areas only.


Please contact us to discuss your requirements.