Eco Friendly or Recycled Kitchens - 1
Looking for an Eco Friendly or possibly some commitment towards a Recycled Kitchen?
Eco-friendly kitchens are one of the biggest demands at the moment in kitchen design, and one on which the manufacturers are increasingly looking to satisfy. Manufacturers are constantly looking to add new products and use more environmentally-friendly materials and improve production methods to ensure that kitchens of the future will be kinder to the planet and more efficient for the user.

At the fore-front of the rush to gain more environmentally-friendly products are the appliance manufacturers. By law, new machines must now carry the European Energy Label rating them from A (most efficient/least energy used) to G (least efficient/most energy used) in 2011 this was extended to even higher efficient ratings above A. Visit this page to understand how the Energy Saving Recommended logo displayed on appliances, shows you how the most efficient products can save you money in the day-to-day running costs.

Buying a new washing machine, tumble dryer, dishwasher or electric oven, it is now important to choose the most energy efficient one.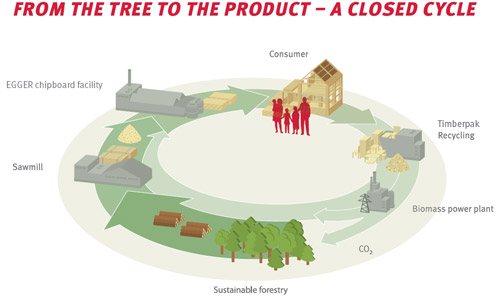 If it is an environmentally conscious kitchen you are looking for there are some recycled or environmentally certified safe materials you can use,
• EGGER board, which is used in all our kitchen cabinets, process various forms of wood waste and recycle it for use in producing chipboard panels for kitchen cabinets - see the recycle chart above.

• PARAPAN® acrylic doors are also 100% recyclable and all the waste produced in the UK is used for samples or recycled, Parapan® is a zero waste product.

• Timber is a good choice as long as the wood comes from a sustainable source, check to see if the manufacturer has used Forest Stewardship Council (FSC) products. Wooden worktops can also be made from timber using staves from offcuts.

• Quartz worktops can be recycled, including glass and mirror pieces for that sparkle finish. Granite is a 100% natural product.

• Recycled timber floors are available to finish your kitchen with a natural look.


Also currently popular are energy-saving lighting fixtures, there is an enormous selection of LED and environmentally friendly lights which run at very low costs. Water conserving taps can be a great feature to add to an environmentally thought out kitchen.

Looking for Eco Friendly Kitchen Appliances?
When shopping for eco-friendly appliances, the sheer number of options can be overwhelming and most buyers give up the choice early and go for the cheapest. For many, energy ratings are not considered as it adds to the research required, but now energy efficiency website sust-it.net has done the research for you.

Compare the running costs before you buy, it is evident that buying the cheapest product is not always the best option. Additionally a more expensive product can last you for many more years of use before replacement.

Often a few £100's saved at purchase can cost many £100's extra in running costs during the lifetime of the appliance. Whatever the budget, the Energy Ratings should be considered in the final purchase decisions, clearly going ahead with the attitude that the cheapest appliance will be the best choice, is not going to be the most cost effective decision you will make.
Microwave Consumption.
Your microwave oven should be rated in Watts (W) or Kilowatts (kW).

To find out what your microwave costs to run, look-up its' power specification, and what setting you have it at, and check it in the chart below.

Use the energy calculator (link below the chart) to see how much it will cost to run other appliances.


| | | | | | |
| --- | --- | --- | --- | --- | --- |
| Power Rating | Cost/1 mins | Cost/5 mins | Cost/15 mins | Cost/30 mins | Cost/60 mins |
| 700W | 0.29p | 1.45p | 4.36p | 8.71p | 17.42p |
| 800W | 0.33p | 1.66p | 4.98p | 9.96p | 19.91p |
| 900W | 0.37p | 1.87p | 5.60p | 11.20p | 22.40p |
| 1000W (1kw) | 0.41p | 2.07p | 6.22p | 12.45p | 24.89p |
| 1200W (1.2kw) | 0.50p | 2.49p | 7.47p | 14.94p | 29.87p |
| 1500W (1.5kw) | 0.62p | 3.11p | 9.33p | 18.67p | 37.34p |
The above chart is based on the average rate of 17.78p/kWh (December 2018 tariff) for a unit of electricity.
Microwaves energy input in Watts is usually more than its stated output in Watts, please check your user manual.
Please Note: On average a microwave will use 30% to 50% more energy than the rated output.


Use this energy calculator, it allows you to calculate the running cost of any of your home electrical items using a range of electricity tariffs.

Simply enter the amount of electricity the appliance uses (in Watts or Kilowatts) and the length of time they are used (in Hours or Minutes), then instantly see the cost.


Kitchens are now considered the centre of the home and they can certainly provide that "wow" which is essential when you are selling a property, but house buyers are now looking for an eco-friendly kitchen in their new property purchase.

Make sure your kitchen not only looks good but also provides the very best in energy saving materials and contains ecologically sound efficient appliances with the lowest running costs - to keep your home eco-friendly.



FORWARD TO 2nd PART

Please contact us to discuss your requirements.