Latest Coronavirus Update 16th Nov 2020:

Tradespeople can carry on working on existing kitchens in customers' homes, but new installs are still in a very grey area particularly with a house in lockdown. The government states "To fulfill a legal obligation, tradespeople can work in other people's homes where necessary".

We have read that as - kitchens that were ordered and started before lockdown, will be under contract so can continue.

The current Coronavirus advice seems to read that we are also not able to visit homes for non-essential surveys. Additionally the Kbsa (Kitchen Bathroom Bedroom Specialists Association) has confirmed that the latest government guidance, updated on 16 November now requires kitchen and bathroom showrooms in England to close.

The Kbsa states that this is a change to the guidance which was issued on the 05 November. The latest provides a new list for retail stores which must close and this includes "showrooms open to the public for products used in homes, including bathrooms, kitchens and glazing".

However if you are looking for a kitchen the easiest method is that we can send you brochures to view, backed up with images & all questions answered by email, texting, or telephone, with the viewing of doors & other samples following on later.

Don't forget we are always available for free advice on kitchens via phone or email. Any kitchen quotes, plans & drawings can be emailed directly to and from each other.

We are available to quote on any future supply & install, & supply only kitchens, or kitchen refurbs to those that need them, again contact us via phone or email communication.

Please use either the telephone number or email address in the heading above to contact us.

We are continuously adapting our practices to the ongoing situation, this has been decided with government recommendations as well as for your own safety.
Contact Us
Dream Kitchens Showroom,
The Old School House,
12/12a, School Lane,
Ramsgate,
Kent. CT11 8QX

(The large flint/brick building at the
rear of Aldi's Supermarket Car park).


If you would like us to make an appointment to visit, or maybe to discuss a quotation (with no obligation)
Please give us a call on 07474 129 272.
Looking for advice or help -

e-mail:
sales@dreamkitchensuk.com
If the telephone is busy or unanswered, please leave a message
with your name and phone number and we will call you back ASAP.


PLEASE NOTE: We are sometimes closed for periods during the day, visiting customers
to carry out surveys and check installations, this can be many miles away and anytime in the day,
so to save a wasted journey - please always telephone first.


OPENING HOURS:

Although we are open, due to Coronavirus our normal opening hours have been cancelled to ensure both yours & our safety - inline with the government guide lines. Before visual contact can be arranged, any possible communication would have to be booked and agreed first between any parties involved.
---

Please click the Google logo (above left), for an interactive map of Ramsgate, shows Dream Kitchens showroom.


---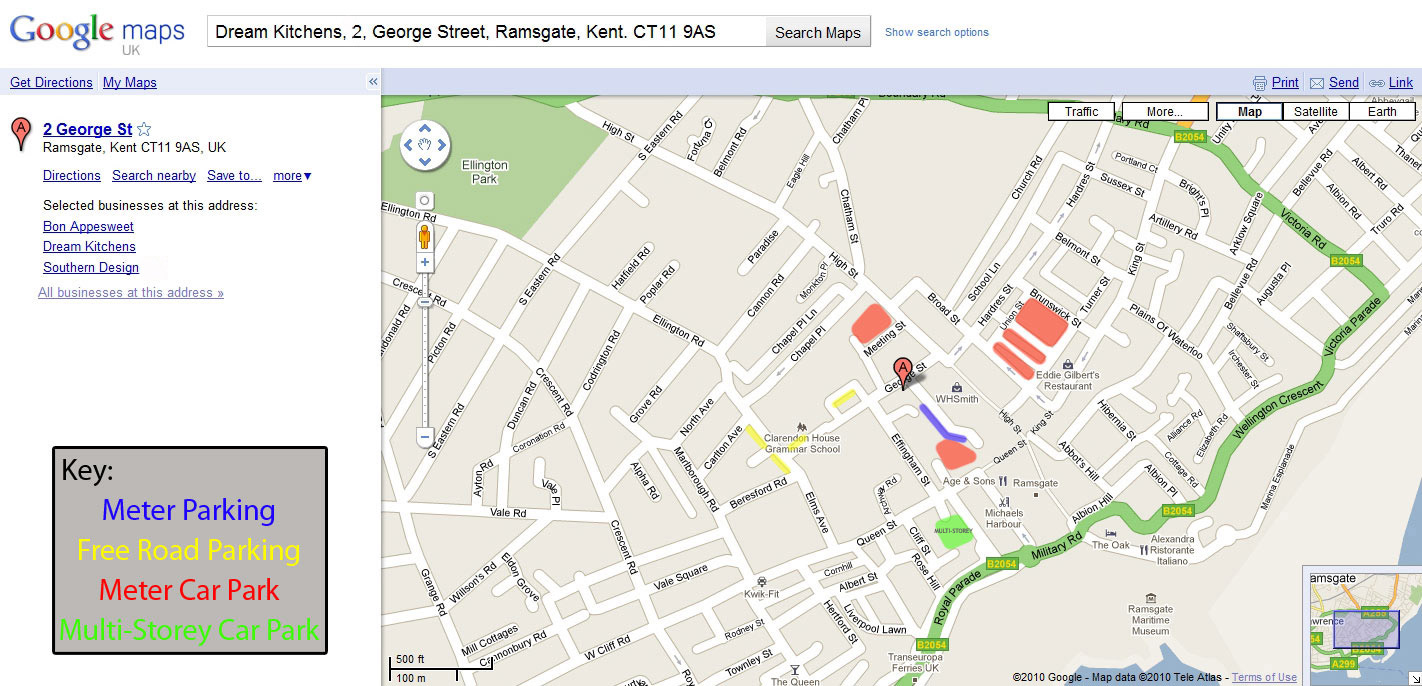 Please click on the map (above left) to enlarge, shows a local map of the area, displaying suitable car park space.
---
Looking for help -

e-mail:
sales@dreamkitchensuk.com
OR fill in the boxes below with a short note.
---
Please click here to view our PRIVACY POLICY
---
CHOOSE A BROCHURE AND DOWNLOAD FROM THE CAROUSEL BELOW.