Part- 1, All that Jargon;

What is the difference between all the
materials used in the manufacture of a kitchen?
Timber and veneer:
• Timber:
Every piece of timber has its own character.

Even amongst the same species there can be variations in the grain and colour,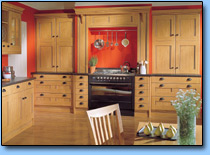 timber always has the occasional knotting, sometimes this is acceptable in large amounts as in Pippy oak, but normally it is chosen for the occasional knot only, although this does alter subject to fashions. Knotting in pine used to be favourable but is now out of fashion, if pine is used at all the least knots showing, the more desirable the timber.

The beauty of timber is in all the variations of colour, texture and patterns of graining, this is the reason for choosing real wood and it is important to accept that there will be variations in the doors and possibly some knotting. For the true lover of real wood/veneer furniture, this is the very reason for choosing a natural finish rather than a man made alternative.
Where this natural variation is likely to cause a problem, we can provide a range of man made materials that will be more suitable such as vinyl & foil.

• Veneers:
Veneer is applied to a chipboard or an MDF base, a natural timber veneer can be applied to both sides, this is sealed with either a clear coating of oil for durability, or with kitchen doors etc, a stain and/or lacquer. The colour range is limited to the availability of the timber species, any additional colour shades required are stained in one of thousands of options.

Edges of veneer boards are square and in the same material, on wide boards a matching veneer strip is placed side-by-side, so a tiny join could be showing. Veneer is usually only applied to flat panel doors with square or bevelled edges, as bending of veneers is limited.

As wood is a natural product, it should not be exposed to air that is too humid or too dry.
For a kitchen with wooden doors air humidity of 40 to 85% is ideal, dry air with little to no humidity is undesirable.
Foil and Vinyl:
• What are Foils and Vinyls?
These are increasingly popular wood substitutes that give a very realistic woodgrain finish to MDF and chipboard. The particular benefits are economy, an extensive range of imitation, exotic wood effects, durability, and consistency of colour and grain that make them ideal for fitted furniture, without the open graining and blemishes of real wood.

• Foils:
Foils are photographic reproductions of timber, used in place of real wood veneers on MDF panels and available in a variety kitchen or bedroom cabinet doors, plinths, pilasters and cornices.
Foil doors are normally constructed as "five piece" doors to imitate traditional timber doors.

• Vinyls:
Vinyls are economically priced, woodgrained, flexible plastic surfaces, that mould themselves to and bond to, "one piece" pre-shaped MDF doors, in aprox 30 designs and 35 colours.



Vinyl wrapped doors are made up of MDF panels which are cut, routed, profiled, sanded, then glued and covered with a vinyl film that is pressed to the door under vacuum. The back of the door is usually pre-laminated. The vinyl thickness is between 0.4mm and 0.7mm.

There is a large range of colours, both plain and in wood grain, sometimes they are embossed to feel like wood grain or textured for effect. Some vinyls are available with a shiny gloss finish.

Coloured gloss vinyl is the cheapest material used for gloss finish doors.

The edging on vinyl is better than laminates, as it is more rounded, without sharp corners, and has no joints. There are many example doors of both foil and vinyl in our showroom to inspect.
MDF and MFC:
• MDF:
Medium density fiberboard, or MDF, is a composite wood product. It′s made out of wood waste fibers glued together with resin, heat, and pressure. MDF is appropriate for many applications, from cabinetry doors to cornice mouldings, because it is smooth, uniform, won′t warp, is dense, flat, stiff, has no knots and is easily machined.

MDF is stronger and denser than chipboard. Because it is made up of fine particles it does not have an easily recognisable surface grain. MDF can be painted to produce an extremely smooth quality surface. Because MDF has no grain it can be cut, drilled, machined and sanded without damaging the surface.

MDF has many advantages, it′s very smooth because the wood fibers used in its manufacture are uniform and fine. This makes it have low "tear out," which means that when sawed, the end has a smooth cut instead of a jagged edge.

Standard MDF also has a mild reaction to moisture, meaning it won′t warp or swell in high-humidity applications like a kitchen or bathroom cabinet. There is a moisture resistant MDF that can be used in excessively damp areas. Paint, veneers and laminates are used to give the MDF a finish.

• MFC:
Melamine faced Chipboard, or MFC is a common product that is made from resin coated particles of softwood. Though it is more dense than conventional wood, it is the lightest and weakest type of fiberboard, except for insulation board. The particles are evenly spread over a flat plate and heat bonded together under high pressure.

The melamine face refers to the decorative finish found either side of the board, often seen in white but also in hundreds of colours and woodgrains in different textures and sheen levels from matt to gloss.

There are other types of chipboard available including flooring grade, moisture resistant, melamine veneered, plastic veneered (used on worktops), white melamine coated as well as other colours including woodgrains (as used in kitchen cabinet construction) and real wood veneered (used on cabinet doors).

Our kitchen cabinets are manufactured with the highest grade 19 mm thick board available (inc′s cupboard backs) using EGGER EURODEKOR® it is colour co-ordinated to the door fascia colour, in one of aprox 110 colours, to ensure your kitchen door and cabinet colours match as near as possible.
Composite materials:
• Corian:
Corian is a solid non-porous composite material, not coated or laminated, its beauty, colour & pattern runs through its entire thickness.
As Corian is a solid material, any accidental surface scratches or cuts can be easily removed with fine sandpaper - without marring the finish, but please check your guarantee first. Specialist Corian sinks, made from the same material as the worktop are becoming more in demand, but any inset or under-build sink can be used in stainless steel, composite colour or ceramic.

The popular composite sink materials such as BLANCO Silgranit® PuraDur® II come in a large range of colours including speckled granite effects. As with all sinks they need regular cleaning with a suitable proprietary cleaner.

In the past ten years sink composite materials have improved considerably and now offer excellent impact and stain resistance.
FORWARD TO 2nd PART

Please contact us to discuss your requirements.
---
Share this page: