BACK TO PAGE 1
Think about your Ergonomic Kitchen Design - 2
Kitchen Worktops:
Work surfaces can often be an after thought. Yet worktops are the most visible part of the kitchen and subject to the most punishment. Colour and finish must compliment the cabinet fronts, but that is a minor issue compared to whether they can withstand knocks, abrasions, chemical attack, damp, hot pans, cigarette burns and steam. There is no other furniture component that is expected to tolerate so much misuse.

Those who buy a poor quality worktop will soon be looking for a replacement. That entails removing the sink and hob, disturbing tiles, re-cutting joints and trimming the laminated edge decors. An expensive and disruptive remedy, that could cause you a lot of stress.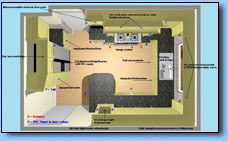 Our worktops are not the most expensive around by far, but we do avoid the cheap and nasty. All our cheaper worktops offer a genuine laminate not a paper foil finish as offered in some sheds, as for density of the board structure - come and see the weight difference for yourself.

Think carefully before ordering, If you are looking for a inset sink (sink goes into a hole cut into the worksurface) then any worktop material is suitable. But if you require a built under sink/undermount, (sink is installed under the worksurface) or a Belfast type sink, then you cannot use any laminated (the cheapest) worksurface. The worktop edges exposed around the sink cannot be sealed adequately, so as a hygienic, waterproof sealed worksurface it is useless.

If it is a timber worksurface you require, remember they are oiled to look natural, but are not always practical to remain looking new. Water, cooking oil and any grease will mark timber - often quite badly, do you want to mantain it on a regular basis by cleaning, sanding and re-oiling?

To see our many worktop choices, view colours and even to order samples visit our kitchen worktop colour page.
Just click on one of the images.
Kitchen Appliances:
The hub of the kitchen is the appliances, depending upon the quality and the efficiency of their performance, will determine whether you remain in love with your finished kitchen. There is a now a wide range of appliances available and they can range from the cheap and nasty to "Rolls Royce" reliability. You do not have to go to the top end of prices to find reliability, for a middle grade range that comes up top Bosch consistently wins "Best Buy" awards in Which? tests and has accumulated numerous awards over the past 12 months across its range of both large and small appliances.

Some appliances are dreadful in performance, others not. Some manufacturers offer a responsive dependable service back up if things go wrong, others don′t and some may last for years, others only for months before trouble shows.

In all our years of fitting and selling appliances, we understand that more than any other kitchen product, "you get what you pay for", don′t be fooled over expensive glossy pictures, often they are a disguise for an inferior product. Remember that the present manufacturers name that you have always sworn by has often changed to the worse. Due to different reasons, manufacturers have often changed ownership several times over the years and ideas of quality have changed with economics and trends. The "old" product you have lived with for many years, may not carry the same reliability and quality you have found in the past - SO BEWARE!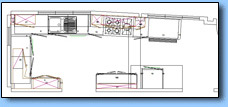 More and more manufacturers have reduced the quality of their products, so as to lower the price when times are tough, often this is due to a constant public demand for cheaper prices. Don′t forget that cheap prices and quality do not go together. If you want quality and reliability, you will have to dig deeper into your pocket!

You don′t have to spend a lot more money to find a decent appliance, but don′t expect to find them in the known cheap ranges. Talk to us at Dream Kitchens and we will guide you through the vast appliance minefield, don′t impulse buy just because the price looks good, if you try and cut corners on budgets you will live to regret it.

Spend a little time on homework before your purchase, decide whether your appliance will have the functions you require, be able to perform well, and hopefully give you back many years of love and attention that you will be proud of.

We have now entered a society of throw away goods, quality and reliability is often sacrificed for turnover and profit.

Although we are happy to advise & help, please do some of your own research first, Which magazine is a good start.
Kitchen Sinks:
The kitchen sink can be a focal point of the kitchen or unobtrusive, depending on its design. A traditional Belfast sink gives the statement its a country kitchen, whilst undermounted stainless steel bowls allow the worktop to be the main focal point and give a modern contemporary look.

Manufacturers have given consumers a vast choice of different bowl configurations, from standard single bowls with drainer to vast double-bowls flanked by two drainers. A half bowl between the main sink and drainer, is a valuable addition for rinsing foods and vegetables. Ensure that your largest pan can fit into the main bowl easily, give us the measurements and we will check.

Consider which accessories might be beneficial. Many models can be supplied with a draining basket, chopping board and strainer bowls.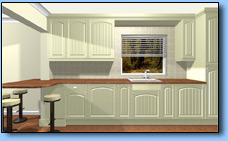 A separate drainer extension can be useful for sinks without a drainer where worktop space is limited in a small kitchen.
Kitchen Taps:
The kitchen mixer tap has become quite a sophisticated appliance, both in terms of design and function. There is a large choice of styles and finishes available to suit contemporary or traditional kitchens. You can also choose from dual-flow models for straightforward hot and cold water delivery.

If you want a sink with large bowl dimensions to cope with big-pan washing-up, it is worth considering adding a tap with a pull-out or pull-down spray rinse. This gives you the flexability to aim water anywhere you need it around the bowl area to clean pans and large objects easier.

There is a vast selection of kitchen taps available. The old fashion washer tap has now virtually given way to the quarter turn ceramic disc, "joystick" type taps (named after the revolving action of a computer joystick) are also very popular, particularly as it operates by a single hand movement and does not require fingers to operate. Many taps have an extra pull-out spray rinse which extends from the spout, or perhaps just a swivel nozzle to aim that water jet.

Franke Tri-flow or Blanco Filtra taps have an additionally supply for purified water with a cartridge unit fitted under the sink.

With such a vast selection of taps available, as well as style, it is important to consider your specific requirements now, to avoid costly mistakes later.





BACK TO PAGE 1
Please contact us to discuss your requirements.
---
Share this page: