Glazed, Made-to-Measure Vinyl Kitchen Doors.
Vinyl Kitchen Doors. Any Design, Any Finish, Any Size.
Please note:
The following door designs and colours are for the full door replacement of a kitchen, bedroom, living, or office only. Adding a new run of units remote from the original can be acceptable, but unfortunately we can not supply odd door replacements where they are mixed in with old.

Although we are happy to supply complete sets of new doors and accessories to refurbish your furniture, unfortunately we are now unable to supply any doors and/or accessories to match old missing or damaged doors where the supplier is unknown. Unless adding to an earlier order we have supplied, the possibility of realistically matching and identifying your existing vinyl door supplied from an unknown source, to one from our range is extremely slim.

The door design, sizes and shapes of moulding detail, woodgrain pattern, surface texture finish, colour tones and sheen level, can change dramatically from different manufacturers even if they look similar. Additionally, the costs and economics of matching and supplying low cost items is not practical, as research, packing and carriage costs can cost more than a small order making it uneconomical to supply.
The following is just a small sample of the many glazed vinyl doors we have to offer...
Our glazed vinyl kitchen door range is manufactured from 18mm mdf covered in one of over 90 colours. There are many different designs to choose from, whether you are looking for a Traditional, Contemporary or High-Gloss style we have them all. This will complete your kitchen makeover without breaking the bank!
These doors are available made-to-measure so are available any size, ideal for kitchen door replacement.
Please mouseover any image below for an enlargement of the accessory shown.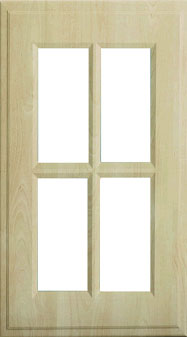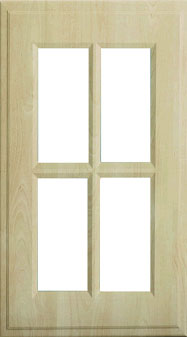 Door Identity: AGL1
Design: Georgian, Clear Glass.
Colour: Venetian Maple.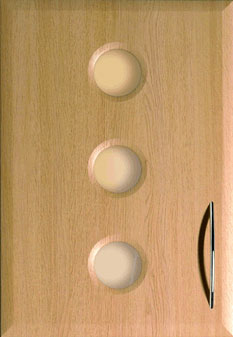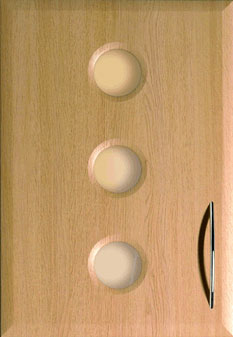 Door Identity: AGL2
Design: Designer Round.
Colour: Stilo Walnut.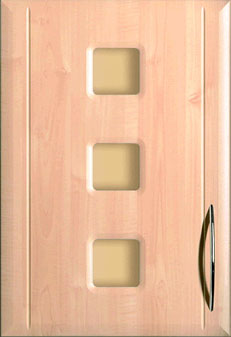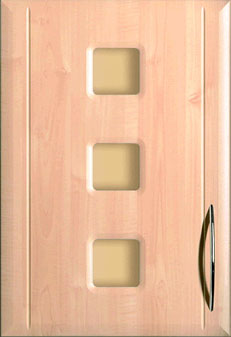 Door Identity: AGL4
Design: Designer Square.
Colour: Light Beech.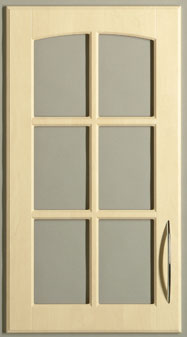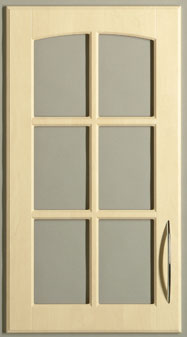 Door Identity: AGL5
Design: Frame, Georgian Arched.
Colour: Birch.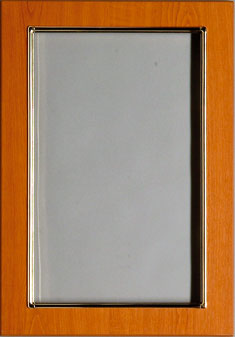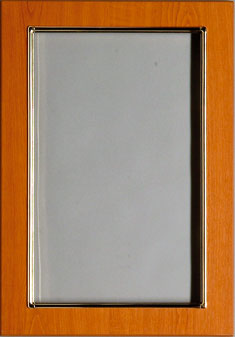 Door Identity: AGL6
Design: Frame, Single Glazed.
Colour: Cherry.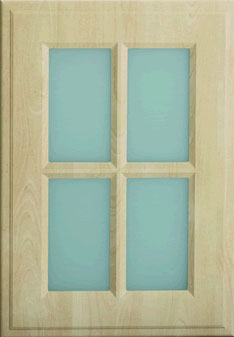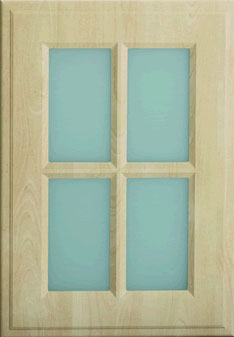 Door Identity: AGL8
Design: Frame, Frosted Glass.
Colour: Canadian Maple.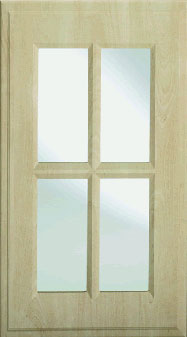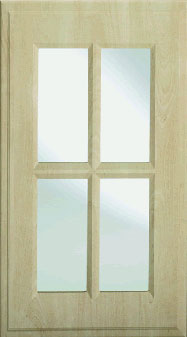 Door Identity: AGL9
Design: Frame, Mirror Glass.
Colour: Maple.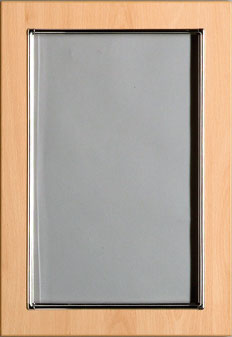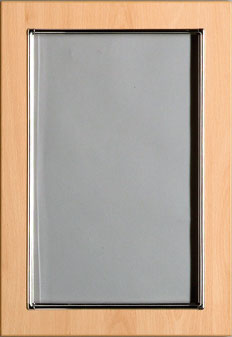 Door Identity: AGL10
Design: Frame, Single Glazed .
Colour: Beech.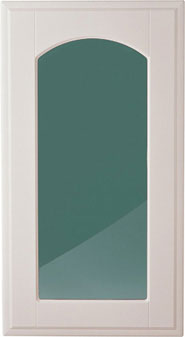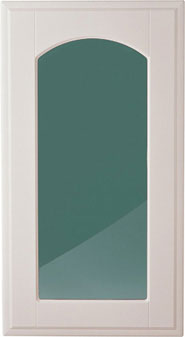 Door Identity: BGL11
Design: Frame, Clear Glazed.
Colour: Ivory.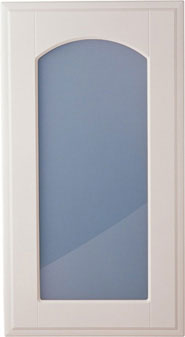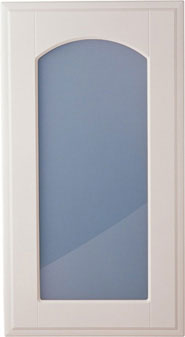 Door Identity: BGL12
Design: Frame, Frosted Glazed.
Colour: Ivory.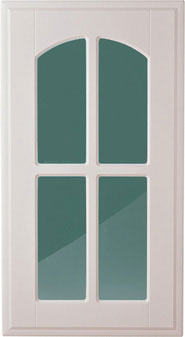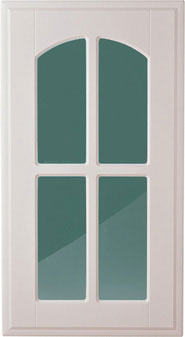 Door Identity: BGL13
Design: Georgian, Clear Glazed.
Colour: Ivory.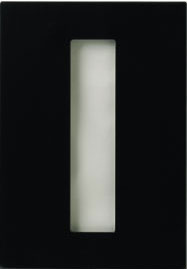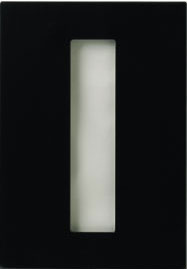 Door Identity: AGL14
Design: Gloss, Feature.
Colour: Black.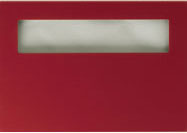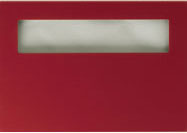 Door Identity: AGL15
Design: Gloss, Horizontal Letterbox.
Colour: Red.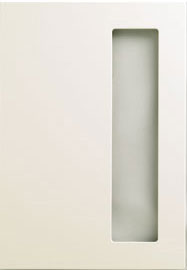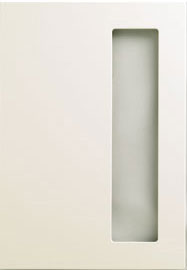 Door Identity: AGL16
Design: Gloss, Vertical Letterbox.
Colour: Ivory.
Please note: colours shown may vary with the actual door, due to limitations of screen resolutions & photography.

Please see sample colour before ordering.


Not all the above accessories are manufactured in gloss colours,
due to the complexity of gloss vinyls, detailed shapes are not available.

Please check with us first if you are not sure as to which correct accessory matches the chosen door colour.


Some of the door colours available in the above designs are as follows......

Traditional & Contemporary doors ......
White Text
Pearl White
Satin White
White Smooth
Snow White
White Ash
Super White Ash
Ivory Ash
Mussel Ash
Cream Ash
Cream
Cream Smooth
Vanilla
Ivory
Oyster
Parchment
Buttermilk
Alabaster
Maple
Lt Maple
Smoked Maple
Ontario Maple
Honey Maple
Venetian Maple
Prestige Maple
Forbo Maple
Canadian Maple
Amati
Acacia
Swiss Pear
Light Birch
Honey Birch
Celtic Birch
Sandy Birch
Mainau Birch
Lyon
Natural Birch
Natural Alder
Red Alder
Pearlised Elm
Odessa Oak
Moldau Oak
Loire Ash
Nancy Ash
Moldau Acacia
Kashmir
Almarie Beech
Light Oak
Natural Oak
Winchester Oak
Westminster Oak
Verade Oak
Pippy Oak
Ferrara Oak
English Oak
Highland Oak
Montana Oak
Lisa Oak
Northumberland PA
Peachwood
Beech
Light Beech
Elmau Beech
Cherry
Memphis Cherry
Milano Cherry
Portofino Cherry
Carolina Cherry
Chestnut
Corsico Chestnut
Walnut
Light Walnut
Dark Walnut
Italian Walnut
Natural Walnut
French Walnut
Stilo Walnut
Tobacco Walnut
Trivero Walnut
Mandalay Teak
Wenge
Nat Rosewood
Tobacco
Steel
Riven Lime (not gloss)
Riven Blackberry (not gloss)
Satin Olive Wood (not gloss)
Alkor Matt White
High Gloss doors ......
| | | | | |
| --- | --- | --- | --- | --- |
| Gloss White | Gloss Ivory | Gloss Cream | Gloss Vanilla | Gloss Mushroom |
| Gloss Cappucino | Gloss Alabaster | Gloss Yellow | Gloss Peppermint | Gloss Wenge |
| Gloss Plum | Gloss Red | Gloss China Red | Gloss Burgundy | Gloss Plum Prunus |
| Gloss Black | Gloss Chocolate | Gloss Olive Green | Gloss Paprika | Gloss Cherry |
| Gloss Maple | Gloss Birch | Gloss Birch | Gloss Beech | Gloss Ferrara Oak |
| Gloss French Walnut | Gloss Macassa | Gloss Miracosa | Gloss Zobrano | Gloss Ebony |
Matt doors ......
| | | | |
| --- | --- | --- | --- |
| Cafe Late | Flint Grey | Ice Blue | Satin Aluminium |
| Mocha | Pistachio | Vanilla | Melanzana |
3mm PVC edged ′economy′ doors ......
Bavarian Beech
Buttermilk
Cappucino
Maple
Red
French Walnut
Light Beech
Titanium
Sand
Swiss Pear
Dark Walnut
Green
Blue
Yellow